As of now my truck has not received a large amount of modifications. However, I have added quite a few small details to improve the look and the experience my truck provides. Improvements have been made to the areas of instrumentation, music, and mild modifications to the performance and handling.
I started out with simple things. My senior year of highschool, I bought a 10 CD changer and installed that with the help of my friend David. Later on, thanks to the crappy construction job done by the lunatics they hire to do roads here in Miami, my trucks shocks blew. I drove it that way for a while and thanks to all the excess vibration caused by that, my truck developed a few rattles. I eventually grew tired and went to Toyota where I bought 4 new shocks and installed them, literally the first time I had done any serious work on my truck.(All I had done before was changing brake pads or oil).
After that, I thought the catalytic converter had clogged. In actuality, I had washed the engine and threw a code that made it run bad and my friend David's diagnostic computer only mentioned an error with the catalytic. I would later find out the O2 sensors were blown. In the meantime, we spent the day gutting the cat only to discover that it still ran crappy and to remember I had a similar (though not as severe) situation before after washing the engine. We cleaned the plugs and then erased the code the next morning. That was how I spent my last day of spring break on my first year at the University, lucky me.
I later bought the O2 sensors and had those installed by a nearby mechanic who is originally from the Dominican Republic like myself.
I now had a catless Tacoma, I lost low end torque in exchange for a little more top end, and I now had more noise and smell which took some getting used to- it doesn't even bother me now after over three years of driving it like that. Thank God for the fact that Florida has no emissions testing. On my second year at the University, my friend Ricarfens got me into the idea of adding a grounding kit so I ordered one and installed it. It noticeably smoothed the idle and improved how loud I could turn up the music without distortion. My friend Javier later bought a TRD intake which was not meant for his Corolla. It was too long, so we cut it and part went on his car and the remainder was used to replace the corrugated plastic part of my intake. Before long, the spark plug wires went bad so I ordered up a set of MSD wires and these also smoothed the idle, even more so than the grounding kit. My friend Javier, who helped me install both even noticed which he didn't after the grounding kit. Soon after, I bought the projector headlights and destroyed all but one of the clips holding on the grill because the stupid Hanes manual said I could remove the grill without taking off the bumper- WRONG! Luckily, the bumper holds the grill on and so do the corner lights. I gained better lights, the ability to change just the bulbs, and angel eyes as well.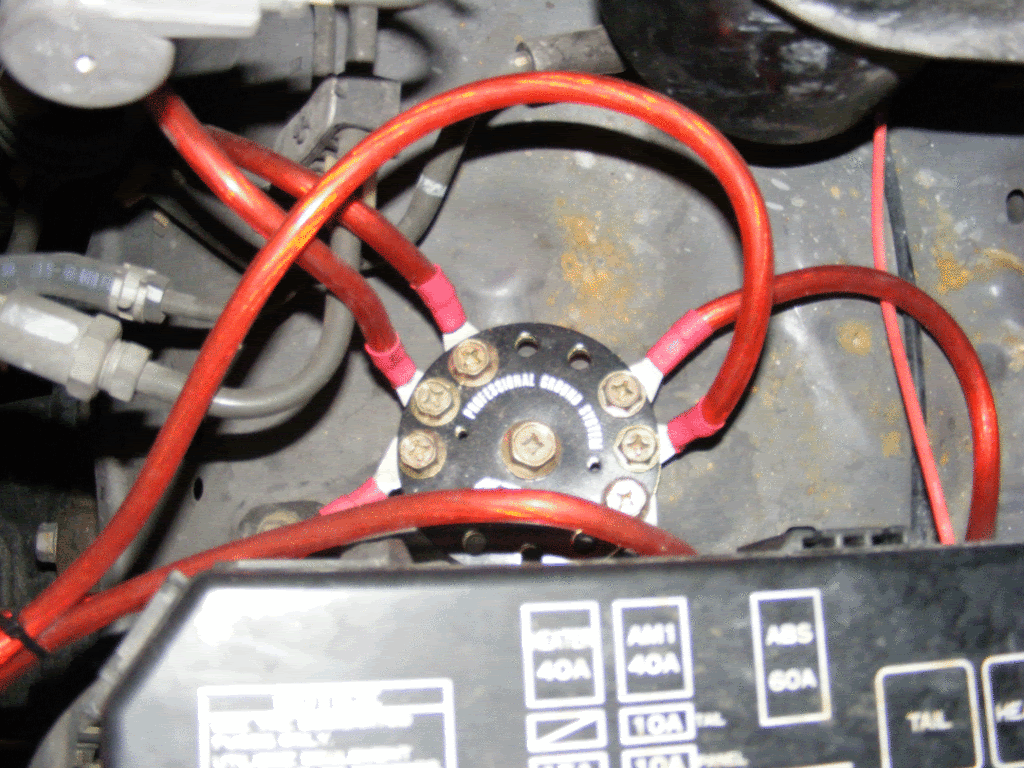 Later on, my trans started acting up. It became impossible to shift gears in many cases, and in first the truck would drive forward without my pushing the accelerator and with the clutch pressed completely down! This was caused by the master and slave cylinders failing.(Yet I was still able to whoop a couple ricers with that problem and the O2 sensors blown-read my racing stories thread) So off to Toyota I went to obtain the originals and I had my mechanic install them. The starter later gave out and I had him install a new one as well. Also, the key cylinder for the ignition somehow got locked so I had to go off to Toyota and buy a new one to replace it. This I did myself in a matter of minutes. I also took off my old plastic bedliner, prepped the bed, and did a roll on liner.
Summer of my second year, the tires wore out and I bought new ones. The Futura GLS tires were pretty good except that they have some inflation issue and wear out in the middle first no matter what you do (short of under inflating them). I stuck to the usual things for a while, oil, spark plugs and brake pads. I also did a 100,000 mile service which was way overpriced and I could have done myself. At one point I got shocks for the hood and made custom brackets to hold them on. Unfortunately, the shocks were too thick and alot of underhood brackets would have to be modified so that they would not hit anything when I closed the hood so I scratched that project.
On the summer of my third year, I painted the edges of the bed with a rubberized undercoat, it looked great but eventually lost color from the sun. The metal frame around my four pane rear window was fading so I masked all that area off and painted it all.
My Cd changer stopped working for no apparent reason-prompting me to realize Sony Xplode equipment is garbage, so I removed it and never bought Sony Xplode stuff again.