Note: I wrote this because I didnt see pics or vids in another seafoam thread, and if there were there's too many pages to look through for them.
I've been getting sh!tty gas mileage and the truck seems to idle a little rough so I figured Id seafoam it. This is the 1st time I've seafoamed the Taco and it didnt smoke half as bad as my TransAm, but it did fix the rough idle. Here's a list of what I used:
1 or 2 cans of Seafoam
Necessary items for oil change
Small pliers
2 funnels (1 for oil and the 2nd to pour seafoam in gas tank)
Step 1: Remove vacuum hose leading to TB with pliers.
Step 2: Start truck and maintain idle by giving it a little gas cuz it might die with the vacuum hose removed.
Step 3: Open can of seafoam and remove plastic cap, using the vacuum hose removed in step 1 slowly insert hose through the mouth of can. If the truck dies, just start it up again and repeat process. You'll find that just barely keeping the hose above the seafoam contents will allow the vacuum to draw it through.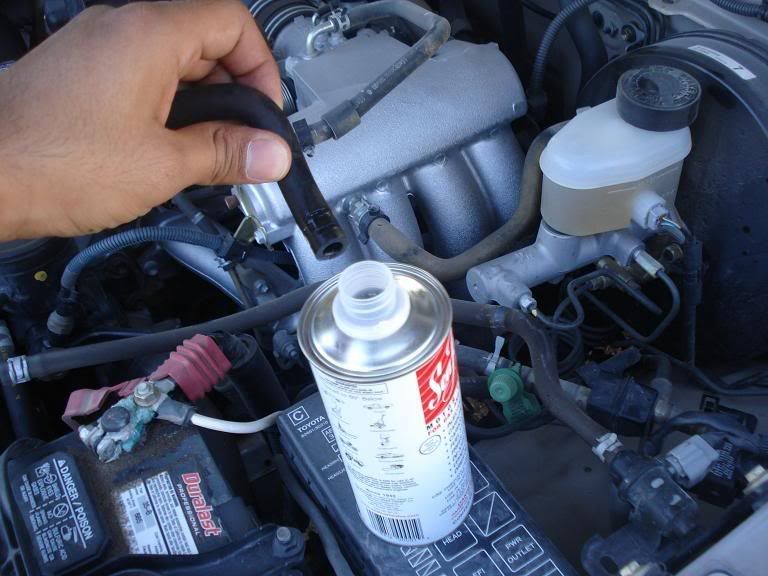 Note: Once you start drawing the seafoam through the hose there will be a lot of smoke depending on how much goes into the manifold. Using my hand I manually kept the truck on when it tried to die by pulling the TB cable. Here's a vid of what it should look like...
Step 4: Once the can of seafoam is a little more than halfway through, insert the hose all the way into the can to kill the motor. See vid in previous step, the motor dies instantly around 1min into the video. It might deisel and sound kinda weird but dont be alarmed, it happens sometimes. After it dies just let it sit for about 5-15 min.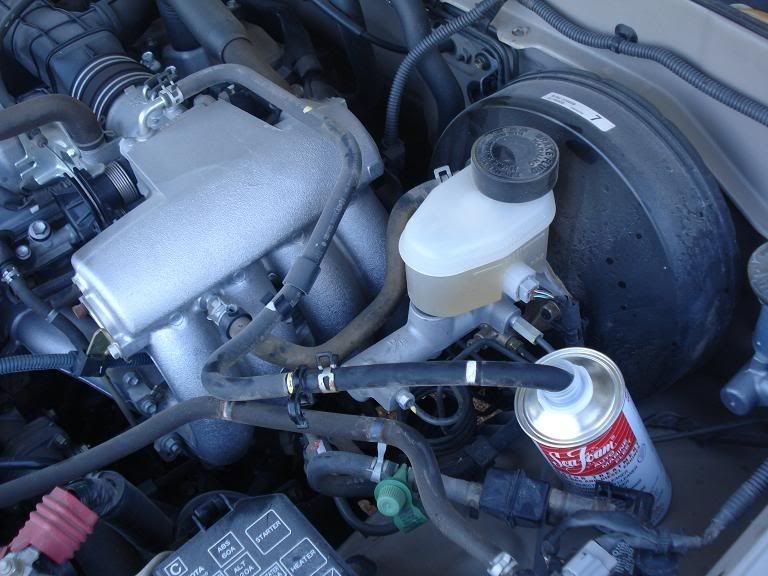 Step 5: The remaining contents can either be poured into the crankcase or poured into the gas tank. This is where the funnel comes in handy.
Step 6: Replace vacuum hose into original location, and start the truck. Dont be scared if it takes a while to start. I had to crank it a few times with the gas pedal to the floor so it would start. Once it does give it a few revs, it should look like this...
Step 7: Let the truck cool down and change the oil. The truck will still smoke afterwards but will go away after you drive the truck around for a while. You can also change out the plugs if youd like, but Id prefer to do it after the seafoam has ran through a few tanks of gas. Good luck guys and let me know if there's anything I missed
.