Discussion Starter
•
#1
•
Recently blew a hose coming out of the heater core, pulled over immediately and shut it down. Roadside service towed the truck to a shop (leaving it outside in the parking lot) instead of back to my house like I had requested. Overnight temps were down to 12 degrees, when I received the truck back the following afternoon, I found that the radiator and lower hose were frozen solid. (Thus my reasons for wanting it towed to my house so that I could keep it out of freezing weather and plug the block heater in....and do the repairs that night).
I replaced the radiator, thermostat, rad cap (13 lbs), new hose to replace the exploded one and fresh coolant. I bled the air out using one of these things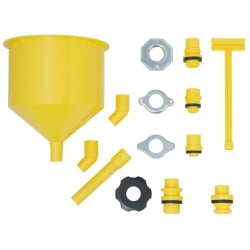 After 5 days of driving, the overflow tank is full but the truck had consumed nearly 3/4 gallon of coolant. Nothing seems to be leaking. The temp gauge has been a little nutty the last few months (suddenly dropping down to being cold, then jumping back up) besides replacing the ECT sensor, any other ideas of what it could be?
Oil was just changed as well and no milkshake (I'm assuming we can rule out head gasket issues?)